Picture the scene:
You're on a catamaran, bobbing about over the ocean waves – (seriously why do we say bobbing? Its so unmajestic.)
Its late-morning and the sun's rays are intensifying, and you do not want to burn…but you are also going snorkelling very soon.
(Hint: you need zero waste sunscreen.)
Most mainstream or commercial sunscreens are TERRIBLY harmful to marine life and coral reefs, due to their synthetic and chemical ingredients.
And then there is their use of plastic bottles…
So, as an eco-traveller you want to protect both your skin and the fishies and their reefy homes.
But how to do that?
You use REEF REPAIR!
Who is Reef Repair?
Originating in Thailand, the idea for Reef Repair began in early-2018.
Reef Repair were dissatisfied with the quality, application and cost of the existing, so-called eco-friendly, zero waste sunscreen or even cruelty free sunscreen.
Like myself, they are avid divers and conservationists, who were and in many ways remain completely discontent.
So they had a thought, which in their own words:
We can do reef safe sunscreen better than the current available options

Reef Repair
And so, they did.
Reef Repair went about developing their own concoction, which as they also mention was a big, but empowering move, from solely divers to producing Thailand's zero waste sunscreen.
What l particularly appreciate about Reef Repair, is how open and frank they are about their story on their journey to being a leader in reef safe sunscreen.
To being a cruelty-free sunscreen with biodegradable plastics and recycled bottle materials.
The fact that they admit it took them 43 tries to get the composition right is refreshing.
And lastly, their humour is just on point – so my character comes through their website, as this extract shows:
Isn't that just quality?
I think it really personalises Reef Repair (l always like knowing about that l buy from), and just who and how they work.
Why go for Reef Repair as zero waste sunscreen?
So, Reef Repair, dont just produce zero waste sunscreen or cruelty free sunscreen.
They emphasise a complete cyclical business model, which is a must if you, as a conscious consumer, really want to be eco-friendlier.
For instance, their sunscreen bottles are PET-1 recyclable, meaning they use the single-use plastic bottles.
So the bottles are recycled, repurposed and reused.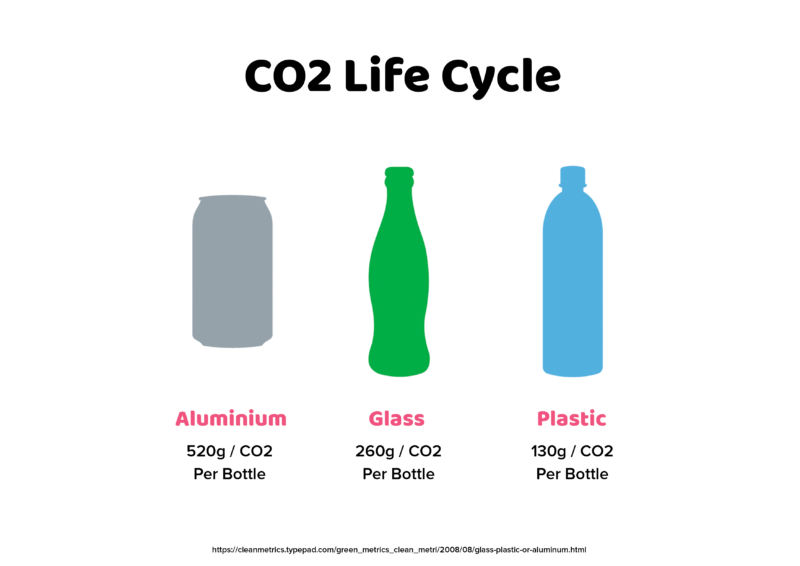 And this increases their shelf-life since they are repurposed far longer for sunscreen, minimises the chance of the bottle being discarded, and reduces the absolute number of plastic bottles in circulation.
This circular economy concept is one of many other factors why you should use Reef Repair:
Reef Repair is a cruelty free sunscreen – they never test on animals,
Their manufacturing facility re-uses, re-purposes or re-cycles every piece of waste from the manufacturing process,
Reef Repair Hair care products are 100% Vegan, the Hydrolysed Silk Extract in the conditioner bars comes from plants, and is not animal-based.
As you can see, Reef Repair really goes that extra mile to ensure they are they produce eco friendly sunscreen, biodegradable sunscreen.
Backed by Science
The other reason as to why Reef Repair is the only reef-safe sunscreen you'll need is all their of science and evidence.
They seek to educate, not merely sell.
Again, l find this refreshing because, its another example of Reef Repair's desire to encourage genuine change in people's behaviour.
Not to only exploit people for a quick, especially those who increasingly desire to be sustainable.
A phenomenon known as greenwashing
And like their humour, Reef Repair are completely frank in their fact-sharing on the stark reality of exploitative business practices.
Their article on the BS of high SPF is a particular highlight:
Indeed, the article, like all the others go in-depth on how SPF ratings actually work, using mathematical equations to emphasise their point.
Now what standard company does that?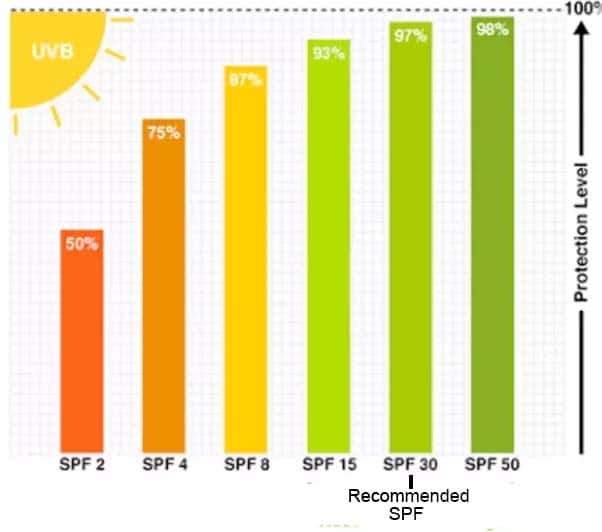 Reef Repair also point out how most sunscreens only protect against UVBs.
When it is actually UVA rays which are the worst and can cause malignant melanoma.
So can you see why Reef Repair is all you'll need?
That honest title, coupled with not trying to sell a product based on false claims, and those natural ingredients really makes a zero waste sunscreen.
That, and that they're so reasonably priced.
Makes a change for sunscreen doesnt it?
Reviewing the zero waste sunscreen
Now, l wouldn't make some bold statements without having used the products myself.
But Reef Repair generously shared some other merchandise l hadnt actually tried before!
Sunscreen SPF 50+
Active Ingredients: Zinc Oxide 25% (non nano)
Other Ingredients: Aqua (Water), Cocos nucifera (Coconut oil), Persea gratissima (Avocado oil), Cetearyl alcohol / Polysorbate 60 (Vegetable emulsifying wax NF),Butyrospernum parkii (Shea butter), Rubus idaeus (Red Raspberry seed oil), Glyceryl Oleate Citrate & Caprylic / Capric Triglyceride, Glycerin, Cera alba (Beeswax), Ethylhexylglycerin & Propanediol, Polyhydroxystearic acid, Sodium Gluconate, Cocos nucifera (Coconut essential oil), Vanilla plantifolia (Vanilla essential oil)
Arguably Reef Repairs signature product, the cruelty free sunscreen SPF 50+ is what came after their 43rd attempt.
I really like texture of the cream – its thick, but not so thick like body butter.
You know the ones?
Body butters that are so thick, so greasy they never feel like they're properly absorbed.
Moreover, this cream has a really pleasant, sweet scent, but that isn't artificial!
Shampoo – Reef Safe Shampoo Bar, Coconut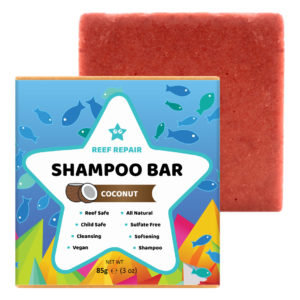 Ingredients: 
Sodium Cocoyl Isethionate, Theobroma cacao (Cocoa seed butter), Cetearyl alcohol / Polysorbate 60, Stearic acid, Ricinus communis (Castor oil), Olea europaea (Olive fruit oil), Aqua (Water), Sodium lauroamphoacetate, Sodium Lauroyl Glutamate, Kaolin clay, Ethylhexylglycerin / Propanediol, Cocos nucifera (Coconut essential oil)
I really like how Reef Repair have made reef safe shampoo bars.
You may have seen how people will shower after diving or snorkelling – sadly often the products they are using still have chemicals which negatively affect the ocean.
Someone could be the biggest conservationist, but all their hard work is undone once they shower and use a synthetic hair product.
But these bars completely solve that.
Plus, when l opened it, l legit thought it was just a mini coconut from the smell.
Its SO nice.
Lip Balm – Reef Safe Lip Balm, Coolmint SPF 15+
Active Ingredients: Zinc Oxide 8% (non nano)
Cera Alba (Beeswax), Cocos Nucifera (Coconut Oil), Prunis Armeniaca (Apricot Kernel oil), Butyrospernum Parkii (Shea butter), Mentha Piperita (Peppermint essential oil), Vitamin E
The last product Reef Repair kindly sent me is their lip balm.
And well, like l have said already, l love it.
The coolmint flavour is so pungent – l feel as though l am just having some gum.
Plus the little capsule/tube it comes in is, well least for me, satisfying to use and hold. You can tell its recycled yet quality feel.
Does that make sense? Or is that weird?
Either way, the lip balm is great. It moisturises and protects my lips which is the point.
These are only a selection from the Reef Repair range.
They also have other products covering areas of skincare, haircare, and will soon launch some Swag & Clothing – which is just a fab name for a webpage.
Takeaways – zero waste sunscreen FTW
And there you have it.
The reasons and some examples of why Reef Repair is all you'll need.
And finally, one last point.
Being a Thai company, Reef Repair supports local businesses and producers of the ingredients that make up their products.
So, when you buy Reef Repair, you are making a triple win.
Because you support your body, you support local, small businesses, AND you support the conservation of the envrionment.
Now isnt that just grand?
---
Ever considered moving to a reef safe sunscreen or a zero waste sunscreen?
Let me know with a comment!